Alisons Pantry
We are a food service company that has been delivering restaurant quality foods since 1987.  I have been in business for a little over two years now. Alisons Pantry has been in the valley for decades though, run by other fabulous representatives. You can visit our website at www.alisonspantry.com or check out the catalog. See our hot deals or shop by category from baking and mixes to spices and utensils.
Contact Lori Miskin                       starwars@gmail.com                                                                          208.548.2555          Cell 208.479.5792
Donna's Salon
A full service family salon specializing in all phases and types of hair styling as well as permanent make-up and is certified for eyelash extensions.  Donna's Salon is very active in the community and supports both school and community activities.  For all of your beauty needs, call Donna Permann at 208-221-0185 or 208-548-2315      or e-mail Dona at:  dwpermann@gmail.com
EmbroideryYourWay.com
Our company started in 2008 with a unique idea of being able to create your embroidery and place it on your item & be able to see the finished product, online, for free before you buy. We have provided service all over the USA, England, and Germany doing logos for hundreds of businesses and government agencies. EmbroderYourWay.com can put embroidery on almost any item, such as hats, shirts, shoes, belts, jackets, all sorts of things. We create an embroidery picture from a normal camera picture, so if you can take the picture, we can produce your logo or picture in embroidery.  We have done many pictures of LDS Temples in silver or white thread on black velvet background, and when framed make a very nice project.  You are only limited by your imagination!
Contact us at (208) 221-2424 and please visit our website:  www.EmbroideryYourWay.com
Hansen Mobile Welding
Plasma  Cutting and Metal Art      Phone 208-242-6013
Kambrie Call Photography
I've been taking personal and family pictures since 2013. I have mostly done pictures here in the power county area but also took many family pictures in the Rexburg area during college. Before I started photographing people I spent many years taking nature and landscape pictures as a hobby. I received my Bachelors in Early Childhood Education and Child Development which really helps me to work well with kids when taking family pictures or child portraits.
Some of the services I provide are Family pictures, Senior pictures, Engagements, Weddings, Bridal, Newborn and child portraits. I have even taken Ballet Dance pictures the past two years for Kimi Taylor's dance classes in American Falls.
I can be contacted by my phone number (208)479-3442 or by my photography email kambriecallphotography@gmail.com about pricing. I also have a Kambrie Call Photography Facebook page that people can follow and like. Its a great tool for looking at some of my work.
Natalie Permann  offers dance, piano, voice, and childbirth classes.  Natalie is also a Doula. Natalie also represents Maskcara Makeup. You can contact Natalie at 208-479-6392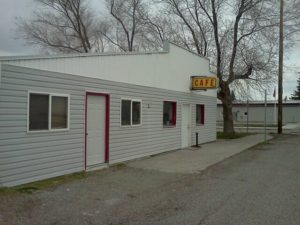 Rupe's Rockland Cafe
Located at 222 South Main Street, Rupe's has served the area for more than 10 years.  The friendly atmosphere attracts locals for morning coffee and the cuisine relaxed country.  The burgers enjoy a following all over the area, making Rupe's a popular destination for motorcyclists, hunters, and snowmobilers.  Also known for cold beer, the cafe is open tuesday through sunday – closed on monday.  Take out is popular with the community, and the kids enjoy the candy selection.  Call Tent and Vanessa at 548-2848 or check them out on facebook.
Schmidt Oil is located on the corner of Main Street (Highway 37) and Shoshone Street.
Schmidt Oil, LLC has been in business since 2000.  It is an unattended card lock system. We have Unleaded, Premium Unleaded and Diesel fuel.  Vending machines with most flavors of cold soda pop available on premises. Contact Stan @ 208-226-2391.
U-dEsiGn  by Larisa Udy   Larissa drafts house plans (full construction drawings), and also additions and remodels. Larissa is also an awesome interior designer.  You can contact Larissa at 208-852-6059 or 208-548-2212
Winter Sun Healing Wellness Center
Peace and Healing…If you are ready for an organic and healthy lifestyle…then my services and products will help you achieve that goal.
Winter Sun Healing, est. 2003, formulates and creates Soulstice Sundries products.  These products are made using certified organic oils, and certified organic and ethically gathered wild herbs, or herbs grown in Winter Sun Healing's organic gardens.  
The Soaps, Reike Charged Therapeutic Massage Oils and Herbal Salves, Balms and Ointments are all made with love and healing intent and will enrich your quality of life through their use.
My healing facilitation services(Reflexology, Reike, E.F.T., Emotion Code, etc.) and Soulstice Sundries products pamper and heal the body…naturally.     jodi@soulsticesundries.com
2498 Dry Hollow Rd.
Rockland, Idaho 83271
home/office: 208.548.2448
cell: 208.221.1222
Woodworth Construction    Brian Woodworth licensed general contractor.  Check with Brian for your next project.  208-479-6336